Weekly Edition #004
Remote jobs, tools, resources for WFH life and handpicked inspirations by humans, freely delivered to your inbox every Sunday.
While countries around the globe wrestle with the impacts of the coronavirus, we hope that this newsletter can continue to inspire and remind everyone of the beautiful global community we share. Right now, accurate and reliable information is absolutely essential. For more information regarding the coronavirus please see the latest updates from Coronavirus Resources & Readings which we use to keep up to date with the latest information, the response, and the global impact. We hope you'll find it useful too.
Working from home will be the new normal for many.
According to a new MIT report, 34 percent of Americans who previously commuted to work report that they were working from home by the first week of April due to the coronavirus. That's the same percentage of people who can work from home, according to a recent University of Chicago publication.

These new numbers represent a seismic shift in work culture. Prior to the pandemic, the number of people regularly working from home remained in the single digits, with only about 4 percent of the US workforce working from home at least half the time. However, the trend of working from home had been gaining momentum incrementally for years, as technology and company cultures increasingly accommodated it. So it's also likely that many Americans who are now working from home for the first time will continue to do so after the pandemic.
---
Remote jobs
Fully-distributed teams and 💯remote jobs without geo-restrictions.
Protocol Labs is looking for Startup Operator
Boostroad is looking for Digital Marketer
Mattermost is looking for Head of Content
Percona is looking for Jr. Staff Accountant
Elevate Labs is looking for Director of Design
Mailer Lite is looking for Customer Support
Octane AI is looking for Product Designer
Daily.co is looking for Content Marketing Manager
Netlify is looking for User Experience & Design Manager
Wikimedia is looking for Senior Copywriter
💡 Notion Tip: Stay on top of job applications with this template. (Also great for tracking internship apps!) If you don't have an account, sign up here and get $10 in credits to get started.
---
Tools
The first 5 tools listed made by fellow makers from Indie Hackers. ❤️
⏱ Pomofocus
An online Pomodoro timer to boost your productivity.
Pomofocus is a customizable Pomodoro timer that works on desktop & mobile browsers. The aim of this app is to help you focus on any task you are working on, such as study, writing, or coding. This app is inspired by the Pomodoro Technique which is a time management method.
📊 Plausible
A simple and privacy-friendly alternative to Google Analytics.
Plausible is a lightweight and open-source website analytics tool. It doesn't use cookies and is fully compliant with GDPR, CCPA and PECR.
📈 Scrapbook
Growth marketing tactics database.
250+ tactics for every step of the funnel. Find inspiration for your next campaign.
Using internal resources to create an experiment backlog is your best bet. If you don't have the resources or run out of ideas though, you may need other sources of new tactics. That's where a scrapbook comes in handy.
🗣 CrowdHeavy
User testing made easy.
CrowdHeavy is a remote user testing and usability platform. Test your website with real people from a diverse pool of unbiased testers. See what users do and hear what they think. Design and build with confidence.
⚡️ Saasify
Start monetizing your API today.
Saasify handles all of the SaaS boilerplates, including user accounts, subscription billing, developer docs, and a polished marketing site. So you can focus on what matters.
---
🚀 Eesel
All your work in one place.
Stop wasting time finding your work – eesel brings together all your work in one place. It's free, works with pretty much any tool you use, and doesn't compromise on privacy.
🌱 GitHub Sponsors
Fund your work. Build what matters.
Connect with the community that depends on your work. Receive recurring funds to build our shared digital infrastructure. Zero fees, 100% to developers. GitHub does not charge fees for GitHub Sponsors. They also cover payment processing costs, so one-hundred percent of your sponsorship goes to the developers and projects you fund.
🚩 Toggl Plan
Beautifully simple project planning.
Take the stress out of project planning and people management. Toggl Plan helps teams work smarter together. A project planner that won't let anything slip through the cracksLovely to look at and easy-to-use, Toggl Plan gives teams a visual overview of who's doing what, and what's coming up next. That means less stress and better results.

💪 TheWorkout.Today
A free home workout in your inbox that takes 29 minutes or less.
Boost for your body and mind. Every Monday, Wednesday, and Friday, you will receive an email with a reflection and a bodyweight workout you can do anywhere.
🌟 And.co
Save time, get paid & grow your business.
Send proposals, invoice, get paid and manage your time and tasks.
---
Articles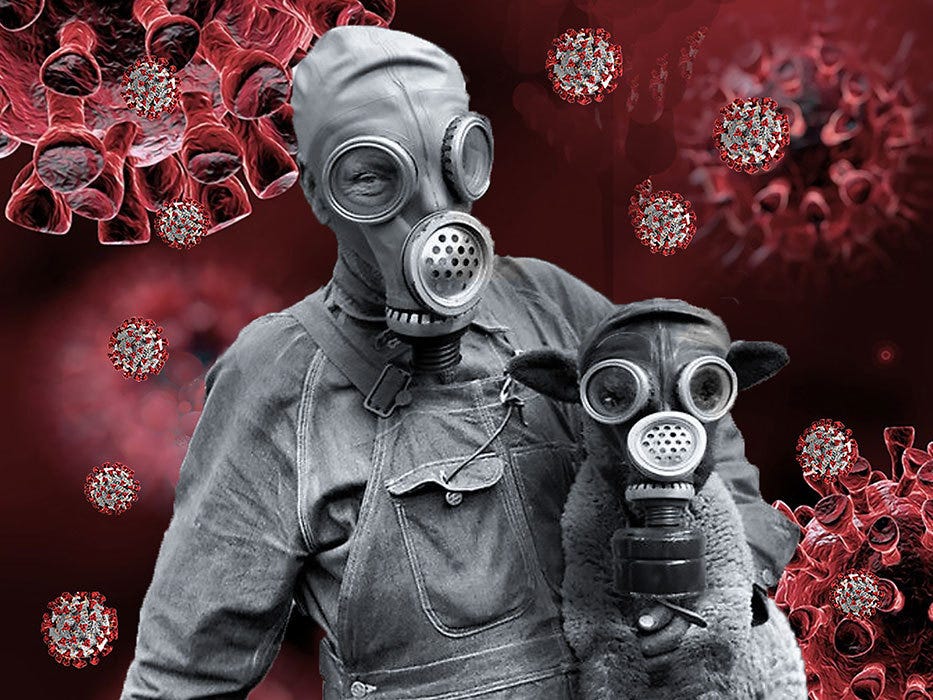 The National Geographic
Researchers explain why withdrawal from our usual environments—due to social distancing—has left dreamers with a dearth of "inspiration."

With hundreds of millions of people sheltering at home during the coronavirus pandemic, some dream experts believe that withdrawal from our usual environments and daily stimuli has left dreamers with a dearth of "inspiration," forcing our subconscious minds to draw more heavily on themes from our past.
Ness Labs
We are obsessed with optionality. Not sure what to do with your life? Most people will tell you to get a degree. Not quite sure what to do with this degree? Go to grad school. Still not quite sure? Get a consulting role at a big firm so you can decide what kind of job you enjoy. And so on and so forth. We fall prey to the optionality fallacy. As Erik Torenberg puts it, it can be "like spending your whole life filling up the gas tank without ever driving."
NiemanLab
The newsrooms that will thrive in a post-COVID-19 world will be the ones that embrace the shift to distributed teams. Here's a guide on how.

Over the past few weeks, social distancing policies and travel restrictions to limit the spread of COVID-19 came into force in countries across the globe, impacting billions — journalists included. Almost overnight, news publishers had to find a new way of functioning that didn't revolve around physical newsrooms. To add to the pressure, many newsrooms are simultaneously facing an existential financial crisis of lost advertising revenue and subscription revenue at risk from a global recession, resulting in layoffs, furloughs, pay cuts, and closures at an unprecedented rate.

In this moment of crisis, though, we have an opportunity to chart a path forward proactively for our industry: The newsrooms that will survive and thrive in a post-COVID-19 world will be the newsrooms that embrace the shift to distributed teams.
Examine
Over the course of a day, you get sleepy as adenosine binds to A1 receptors in your brain. Caffeine blocks adenosine from binding, thus making you feel alert and also helping you feel better.

Caffeine is the most widely consumed psychoactive drug in the world, largely due to its mood-enhancing and stimulatory effects. Despite widespread consumption, few people are actually aware of how caffeine works in the body. We thought you might be interested in learning exactly how caffeine works in your body after you ingest it and it enters the brain.
The New York Times
Most of the big droplets travel a mere six feet. The role of tiny aerosols is the "trillion-dollar question."

The rule of thumb, or rather feet, has been to stand six feet apart in public. That's supposed to be a safe distance if a person nearby is coughing or sneezing and is infected with the novel coronavirus, spreading droplets that may carry virus particles.

And scientists agree that six feet is a sensible and useful minimum distance, but, some say, farther away would be better.
BCG
The unfolding, global COVID-19 pandemic is a human crisis of historic scale and complexity. It is straining health care systems, government fiscal capacity, and the ability of many organizations to cope with the changes wrought by the virus and the response to it. The level of uncertainty for most leaders is unprecedented, and most of our frameworks for planning and problem solving are unable to manage the geographic variability, uncertainty, and the exponential change brought by the COVID-19 crisis.

In our work to confront this challenge with public and private sector clients worldwide, we have found that many leaders are asking the same set of questions: How should I forecast my revenues? How should I adjust my budget? When will this be over, and when will we return to "normal"?

These are good questions, but the reality is, we shouldn't be asking them at this point. In the wake of so much uncertainty, we should instead focus on framing potential scenarios and use them to develop a robust plan of action.
---
TED talks
Why the majority is always wrong
Paul Rulkens is an expert in achieving big goals in the easiest, fastest and most elegant way possible. Originally trained as a chemical engineer, he has moved his focus to the fascinating field of high performance. His work is based on his knowledge and experience about the practical application of behavioral psychology, neuroscience and especially common sense. He currently works worldwide to make successful people, teams and organizations even more successful.
---
Master Shi Heng Yi – 5 hindrances to self-mastery
Meet Shaolin Master Shi Heng Yi in his serene talk about self-discovery. Learn why rainfall is an essential part of each flowering. And every small step – part of the journey to the highest peek. The hindrances along the way to self-discovery and personal growth are easy to overcome. Learn how from his talk. "The universal law of being successful and happy at the same time means finding the balance", says master Yi.
---
Words
The most intelligent men, like the strongest, find their happiness where others would find only disaster: in the labyrinth, in being hard with themselves and with others, in effort; their delight is in self-mastery; in them asceticism becomes second nature, a necessity, an instinct. They regard a difficult task as a privilege; it is to them a recreation to play with burdens that would crush all others.
― Friedrich Nietzsche
---
Useless Facts
For looking smart at dinner parties. Virtual ones currently.
🐝 A honeybee can fly at fifteen miles per hour.
👑 The King of Hearts is the only king in a deck of cards without a mustache.
✋ Tesseradecades, aftercataracts, and sweaterdresses are the longest words you can type using only your left hand.
⚡️ A bolt of lightning contains enough energy to toast 100,000 slices of bread.
😱 Triskaidekaphobia means fear of the number 13.
---
Music
Billie Holiday with Carl Drinkard on Broad Street in Newark, N.J.
Today, "legends" are ten a penny. When Billie Holiday was accorded the accolade it meant something. Lady Day was a brilliant singer, a great lyrical interpreter, she took chances, lived life hard, she could swing, she could swoon, she moaned low, was elegant and she was a soul singer before anyone had coined the phrase. She was one of the greatest jazz vocalists of all time.
---
What else
---
So what happens now?
"We know that coronavirus will not overcome us," Queen Elizabeth II said in an Easter message. "As dark as death can be, particularly for those suffering from grief, light and life are greater." She's right, it will not. But MIT's AI predicts catastrophe if social distancing restrictions relax too soon. Even we don't need AI to figure that out, the virus is out there and we are not immune that's for sure. When vaccinations and effective treatments are available, then we can treat it more like common flu or cold. Otherwise, stay inside, keep social distancing, wear masks and gloves when going out.
Please don't make all of this be for nothing.
---
🌱 If you know someone like you, who would enjoy these Weekly Editions, you can always forward them the newsletter and ask them (politely) to sign up.
Remote Jobs Center | Website - Twitter - LinkedIn - Newsletter
---