Weekly Edition #005
There's a lot out of our control right now, but what we can control is our thinking, taking some time to get to know ourselves better and maybe forming some new opinions.
As this pandemic continues to grip the world's attention, some countries have figured out how to slow it down, as other countries prepare for the worst. Let's face facts – until a vaccine is formed for COVID-19, we'll continue to deal with one of the most contagious diseases in modern history.
Here are the latest updates and maps of the outbreak.
There's a lot out of our control right now, but what we can control is our thinking, taking some time to get to know ourselves better, and maybe forming some new opinions along the way. In this new newsletter, you'll find a few things that will help you do just that, hopefully.
---
Remote jobs
Fully-distributed teams and 💯remote jobs without geo-restrictions.
■ Slite is looking for Principal Product Designer
■ Rainforest is looking for Head of Growth & Senior Product Designer
■ OpenMind is looking for Senior Product Manager & Curriculum Developer
■ Chess.com is looking for Front-end Developer & Senior Java Developer
■ GitBook is looking for Senior Product Developer & Senior Product Designer
■ Good Money is looking for Community Manager
■ ReCharge Payments is looking for Account Manager & Software Engineer
■ Sourcegraph is looking for Product Designer & Product Manager
■ Bigscreen is looking for Art Director & Interaction Designer
■ SmarterQueue is looking for Full Stack Marketer & FrontEnd Developer
💡 Notion Tip: Stay on top of job applications with this template. (Also great for tracking internship apps!) If you don't have an account, sign up here and get $10 in credits to get started.
---
Tools
The first 5 tools listed made by fellow makers from Indie Hackers. ❤️
📈 Metrical
A privacy-first web analytics tool for everyone.
🚩 Simpletasking
Save time, increase productivity.
💬 Noora
Build products people want.
🤯 Bold
Mental health exercises to change your mindset and for success.
🖥 Everysize
Check your responsive webpage looks great in every size.
---
🎨 Undesign
Collection of free design tools and resources.
📄 Reactive Resume
A one-of-a-kind resume builder that's not out to get your data.
🌎 Team Time Zone
Bring your remote team together, manage across different time zones.
💬 Friday
Stay connected at work without another meeting.
⭐️ Voteflix
The way to rate and review Netflix shows.
---
Articles
A city employee disinfects a street in Beyoglu, a tourist district empty of tourists. Emin Özmen // Magnum Photos.
Rachel Hartigan Shea // National Geographic
The workers who now find themselves on the frontlines of the COVID-19 pandemic have always been essential but we're just now noticing them. A worldwide health crisis forced us to realize that we depended on them—and that they're risking their lives.
Nicholas Bloom, Charles I. Jones, John Van Reenen, and Michael Webb
Long-run growth in many models is the product of two terms: the effective number of researchers and their research productivity. We present evidence from various industries, products, and firms showing that research effort is rising substantially while research productivity is declining sharply.
Max Fisher // The New York Times.
'R-naught' represents the number of new infections estimated to stem from a single case. You may be hearing a lot about this.
Varsha Margrette // Ness Labs
Would you get on a plane that you know has a 70% chance of crashing?

No! I wouldn't even get in if the chance of that happening was greater than 20%. So, what makes individuals pursue the route of entrepreneurship despite the risks involved, despite the facts saying that they shouldn't do it? What makes them successful when they are? What are the reasons for their failure?
---
TED Talks
An ode to living on Earth
If you had to explain to a newborn what it means to be a human being living on Earth in the 21st century, what would you say? Visual artist Oliver Jeffers put his answer in a letter to his son, sharing pearls of wisdom on existence and the diversity of life. He offers observations of the "beautiful, fragile drama of human civilization" in this poetic talk paired with his original illustrations and animations.
What coronavirus means for the global economy
"I'm a capitalist. I believe in the system. I believe you can increase the size of the pie and you could divide it well," says Ray Dalio, founder of Bridgewater Associates. He offers wide-ranging insight and advice on how we might recover from the global economic fallout of the coronavirus crisis -- and use it as an opportunity to reform the systems that help grow our economy.
The beautiful, mysterious science of how you hear
Have you ever wondered how your ears work? In this delightful and fascinating talk, biophysicist Jim Hudspeth demonstrates the wonderfully simple yet astonishingly powerful mechanics of hair cells, the microscopic powerhouses that make hearing possible -- and explains how, when it's really quiet, your ears will begin to beam out a spectrum of sounds unique to you.
A fascinating time capsule of human feelings toward AI
How comfortable are you with robots taking over your life? Covering a wide range of potential applications -- from the mundane (robot house cleaner) to the mischievous (robot sex partner) to the downright macabre (uploading your brain to live on after death) -- technology strategist Lucy Farey-Jones shares data-backed evidence of how our willingness to accept AI may be radically changing.
---
COVID-19 on Business
How COVID-19 has impacted business software spend.
Web conferencing is up 5x overall. Antivirus software up 3.5x. What's notable, though, is that startups are starting to challenge Zoom. Interest in electronic signature companies like DocuSign and HelloSign is up 5x. People apparently don't want to sign documents that other people have passed around, with pens that others have used. This might also explain the recent popularity of an open-source project called FalsiScan, which gives users a way to "make it look like a PDF has been hand-signed and scanned".
---
Quote
Meanwhile the wild geese, high in the clean blue air,
are heading home again.
Whoever you are, no matter how lonely,
the world offers itself to your imagination,
calls to you like the wild geese, harsh and exciting —
over and over announcing your place
in the family of things.
― Mary Oliver
---
Useless Facts
For looking smart at dinner parties. Virtual ones currently.
🦆 Anatidaephobia is the fear that somewhere somehow a duck is watching you.
📕 The Guinness Book of World Records holds the record for being the book most often stolen from libraries.
🥥 About 150 people per year are killed by falling coconuts.
😱 Humans can't breathe and swallow at the same time.
🤺 Dueling in Paraguay is 100% legal as long as you are both blood donors.
---
Music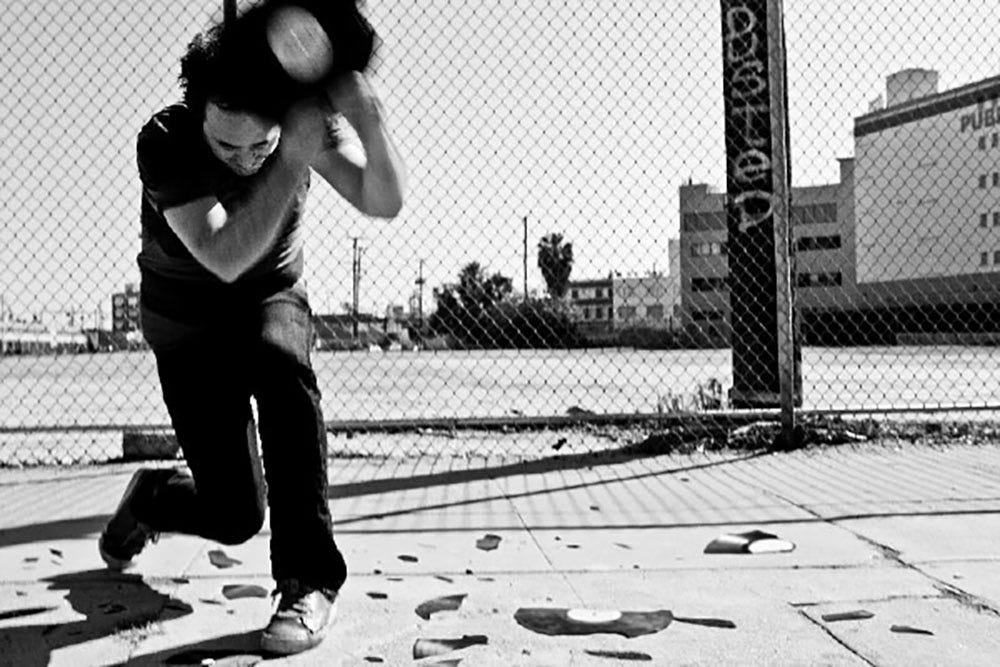 Cut Chemist, 'Outro (Revisited)' black and white photograph © Joseph Armario
A rural psych-folk and rock selection by Cut Chemist and Hymnal (What's The Altitude), one of the deepest collectors of this genre. This mix was created years ago these times to give thanks to the harvest of music that was recorded in America.
---
What else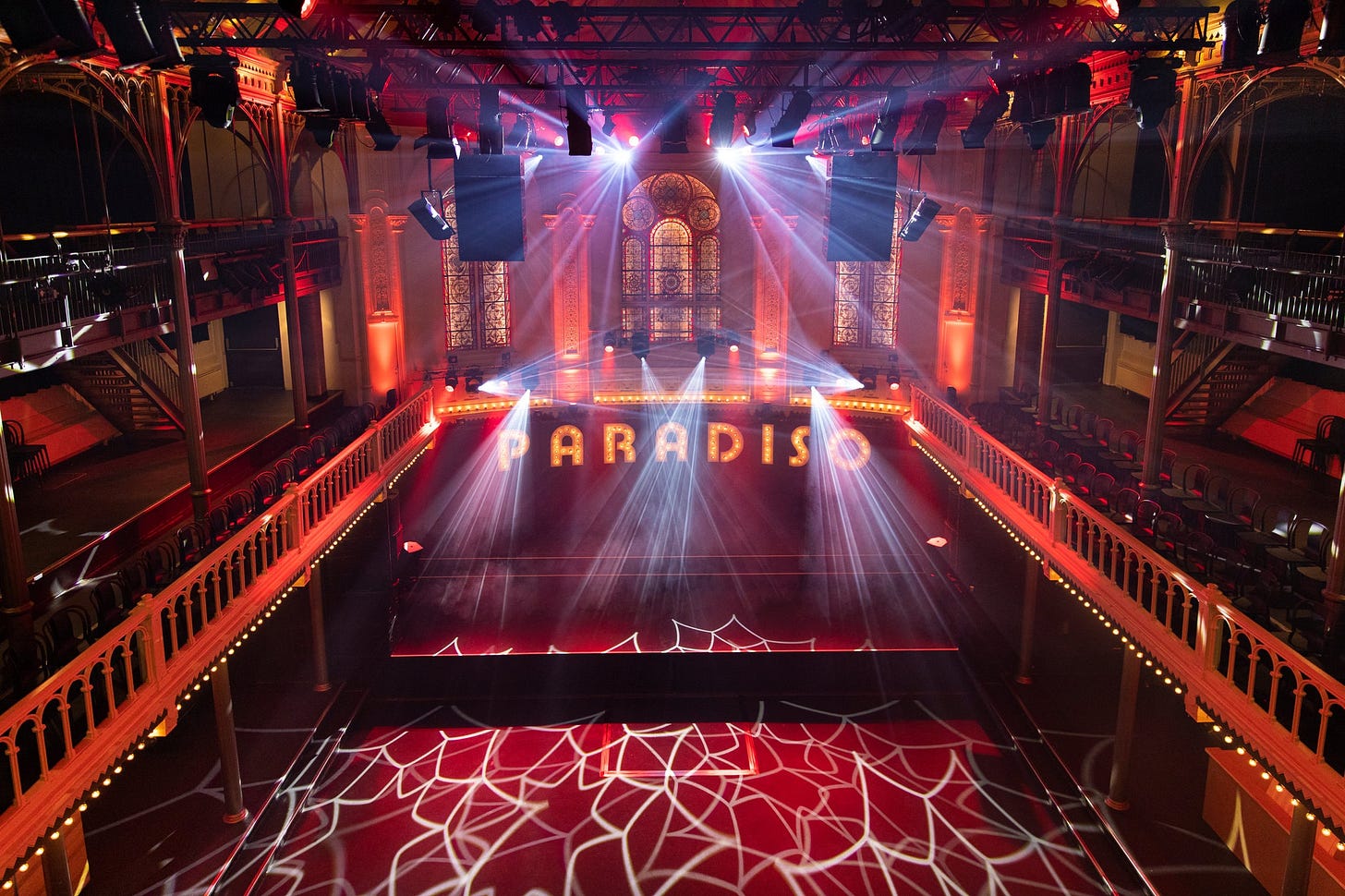 The empty Paradiso concert and event hall in Amsterdam on Thursday. // Ilvy Njiokiktjien for The New York Times
---
So what happens now?
Companies around the world are rolling out blood tests for coronavirus antibodies, heralded as crucial tools to restart the economy. While Chile will become the first country to issue "immunity cards" to those who have antibodies to the virus, starting Monday. But critics say the research is still unclear on whether recovered patients are truly immune.
Until a vaccine or another protective measure emerges, there is no scenario in which it is safe to come out of hiding.
---
🌱 If you know someone like you, who would enjoy these Weekly Editions, you can always forward them the newsletter and ask them (politely) to sign up.
Remote Jobs Center | Website - Twitter - LinkedIn - Newsletter
---